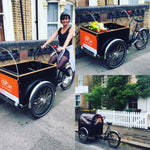 So a couple of weeks ago I signed up to borrow a christiania cargo bike from Waltham Forest as part of their mini holland scheme.  The idea behind borrowing the bike was to see if it was viable for me to use for local flower deliveries, trips to the flower market and fun for the kids on school runs and trips to the park.  I have never cycled in London and being from the Midlands I was a little nervous before embarking in my first journey.  Eric at the council offices gave me some training, first in a car park and then on the roads.  He got me use to the cargo bike which is a little different to manoeuvre than a standard bike.  
I HAVE TO SAY...........I AM AN ABSOLUTE CONVERT..........I LOVED IT!!!  
First solo journey I rode to Stratford and felt confident, secure and slowly started to fall in love with cycling.  After that I picked the kids up from school and they were so excited to be in the carriage sat side by side waving at everyone as we rode past.  I set up a discount code for free delivery and delivered bouquets and flower jars over Walthamstow, Leytonstone & Leyton. I followed cycle paths and cycle lanes and found it so easy to navigate around the borough.  We even did the big shop fitting everything in the cargo box.
I would definitely use one of these bikes for my business and everyday use, an absolutely brilliant bike, I now have to work out a way to be able to afford to get one of these bad boys. Any suggestions welcome please send me your ideas.  
If anyone would like to take part in the scheme visit: http://www.enjoywalthamforest.co.uk/cargo-bike/ and if anyone would like to order any flowers please order online www.edierose.co.uk/order 
For more information on the cargo bike visit http://www.londongreencycles.co.uk/ they offer Waltham Forest residents who come through the scheme £100 off a new bike.
Here are a few pics.......