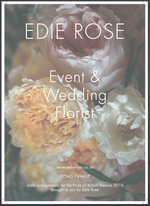 Pride Of Britain Awards 2015
So the build up to the Pride Of Britain Awards was very exciting.  It was by far the biggest event we've done and realised early on we needed to execute a solid timings plan to ensure we were finished at 3pm on the day of the event.  So after a couple of hiccups, one being driving to the wrong hotel postcode on my sat nav and then my 2 staff members getting stuck in the jumbo lift for half an hour we thought the day was doomed and everything was going to go wrong.  
However we were still on time and ready to go at 8am and worked solidly on creating 90 table decorations.  It was like a endurance test, I went cross-eyed a few times but we finished with half an hour to spare.  Nick and Laura were fantastic, supporting me and quality checking each design making sure they were all perfect.  To give a sense of scale to took 2 hours to take the fishbowl designs to each table!!!  Absolutely loved the set up day and seeing the event on TV was amazing.  Thanks to Chelsey Blake, Senior Event Manager at Pride Of Britain for trusting in Edie Rose and letting us be part of this special event.